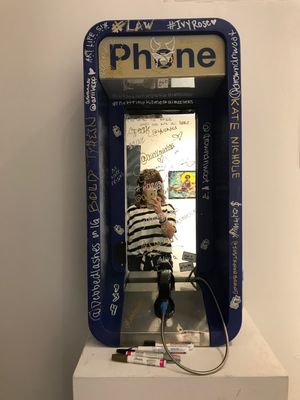 Art exhibit from "The Returning Artist Guild,"
a network of formery incarcerated artists.
Last week I celebrated my thirty-ninth birthday. It was a "spectacular normal," meaning that I didn't do much out of the ordinary, but I've learned that the ordinary is sacred and even still, I felt ridiculously celebrated. Birthdays always feel a bit like New Year's to me. A time for reflection and another chance to grow into the person I want to be. This year, I'm going to self-edit less when I write. I'm going to get my daily cardio in (or 3x a week would suffice), and I'm going to get up earlier than everyone else in the house. I'm going to work towards better self-care. I'm going to make more time for things I love, and I'm also going to give more love away. I am not, however, going to strive to drink less coffee. Maybe next year. 
And that all sounds good, at least to me. But the reality is, sometimes my break-a-sweat cardio looks more like a patient walk with my three-year-old while she collects leaves without a care in the world. Sometimes waking up earlier than everyone else looks more like the fact that I can't wake up without hitting snooze five times. Literally cannot, and the cat who sleeps the other twenty-three hours of the day will be waiting with those eyes as I'm French-pressing my coffee. He's expecting his head to be scratched and his bowl to be filled. The truth is, doing more of what I love looks like moments that I happen to catch myself having fun in, not with intention or plan and loving people is hard work sometimes. Please tell me you agree. (I think Jesus agreed at times too. It's ok.) 
But the good of who I want to be when I grow up can be seen in glimpses of people all around me. I can see it in this older gentleman who comes every week without fail to play Rummy with the residents at the home his wife resided at before she passed away. It's in the book that shows up at my door from Amazon, sent by a friend who considered it too good not to share. I see it in my co-workers laugh and her ability to make people feel noticed and to say the right thing at just the right time. 
Listen. We are all living in the tension of who we are and who we long to be — even the people who appear to have arrived. 
We all struggle with feeling like we can't get it together at times. We all fail and strive and make tiny bits of progress and then mess it up again. That, my friend, is called being human, and that is universal. 
If only more writers would talk about how crippling self-editing can be. All you see is the published book, not how many times they hit delete, completely trash what they just wrote, or run into a wall of wordless writer's block. 
If only more public speakers would talk about how they felt like they were going to vomit the first one hundred times, that imagining people naked does not work at all, or how often they exit the stage feeling like they rambled and completely blew it. 
If only in our everyday circles and communities, we could let go of this enormous pressure to present the best parts of ourself and instead, embrace the gut-wrenching truth of where we are. I'm not suggesting throwing wisdom out the window and hanging all of our dirty laundries out to dry. No one wants or needs to see all of that. 
But you know what else no one wants to see? Your life free of humanness and doubt and fear and feeling failure or inadequacy at times. It doesn't make you less mature or less spiritual or weaker or less (insert your own) of whatever you think yourself to be. 
Gregory Boyle of Homeboy Industries says this, "Go where love has not yet arrived and love what you find there." But he wasn't the first to say this. This was a Jesus mantra if I've ever heard one. May I add a Sarah version? 
"Go where love has not yet arrived and love what you find there, and start with you." 
There is not some future version of you that will be more loved or more worth keeping. You already are, and there is something powerfully wrecking and healing about letting that take root in your heart. 
We become fully alive in this tension of where we are and where we long to be by embracing our present reality and knowing that we could not be loved more. And as I wrote earlier this week in a micro-blog, when you know you're loved, it changes everything.
https://www.instagram.com/returningartistsguild/