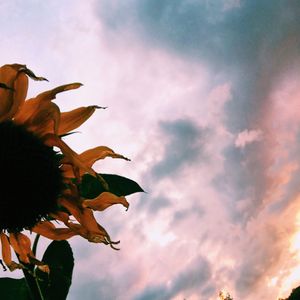 On more than one occasion, his apartment caught my attention as I drove by and noticed him out front cooking on the grill, surrounded by beautiful sunflowers that towered near the height of the building, a few Bird of Paradise plants and an array of cacti of various sizes. It was one of those houses that looks misplaced in its current surroundings, a seeming tropical oasis amid a bleak landscape of run-down buildings with drab colors, homes long-neglected and where you rarely see people outside. And there he was, smiling through the smoke off the grill, company sitting relaxed all around him, all appearing to be living their best life. I didn't know his story, but my curiosity peeked. 
But on this particular day, I just happened to be pushing my daughter's stroller in the persisting heat of early fall, and I just happened to have a question about a store down the street from where he lived and whether or not it was ever going to open. And Mr. Green Thumb just so happened to be the only one in my line of sight for the asking. So I asked. 
Over time and forging through the awkwardness, I have learned that sparking small talk with a stranger has led to some of the most interesting conversations I've ever had. I have also learned that people are often much kinder than you realize, much more willing to engage than you might expect, and much lonelier than you may know. 
So while I asked my question and pointed down the street, his dog barked and scratched furiously at the door as he filled me in on the latest news about this store mentioned above. Considering he lives near it and since word travels fast in cities with a small-town vibe, he seemed to be in the know. 
I thanked him as I continued on my way, and with a tip of his hat and a nod of his head, he said to me, "Peace be with you, and God bless you." 
And there it was. 
The secret to my curiosity revealed. 
Within a five-second conversation, I knew that was the posture in which he lived his life. "Peace be with you." I knew it from his kind and respectful demeanor. I knew it from his tender care of these plants that grew and thrived under the scorching sun. I knew by the way that he could still celebrate those he loves and create beauty no matter his surroundings. I knew it from his affection towards Fido as he was yapping his head off at the front door. I knew because he was willing to engage with a stranger and send me off with a blessing. 
"Peace be with you, and God bless you." 
I still don't know his story. I don't know the hard things he's been asked to endure and carry through life. I only know that if you've lived any amount of time, you've been asked to do so because no one is exempt. I only know that he has learned to carry the mix of beauty and sorrow well. 
There is a secret Paul speaks of when he says, "I have learned the secret of being content in any and every situation, whether well fed or hungry, whether living in plenty or in want. I can do all this through him who gives me strength." Philippians 4:11-13 (NIV) 
Maybe the secret is facing the hard stuff like grief, injustice, and unanswered questions and receiving the grace not to become embittered by it. Perhaps it's knowing (heart deep) that God is for me and not against me, even when life is falling apart, and my current landscape and future both look bleak. Maybe it's the ability to walk in peace during absolute chaos and a whole lot of unknowns. 
It's a secret and a sacred treasure that you only learn through living. The One who is the embodiment of goodwill towards humanity is with you and is with me. He is peace. Your heart can rest, and when your heart finds rest, you can live out that peace towards the broken world around you.